Whenever Apple brings out an update for one of its devices, there is a lot of debate on whether it is worth the money or not. The MacBook Air was made for portability but it falls short in some departments. Especially with competition like Microsoft Surface Pro 6, the question of which one is better comes to mind. Let us get into the depth by doing a MacBook Air vs. Surface Pro review.
| | | |
| --- | --- | --- |
| Laptops | MacBook Air | Microsoft Surface Pro 6 |
| Display | 13.3-inch, 2560 x 1600 | 12.3-inch, 2736 x 1824 |
| RAM | 8GB | 8GB |
| CPU | Intel Core i5-8210Y | Intel Core i5-8250U |
| GPU | UHD 617 | UHD 617 |
| Ports | 2 Thunderbolt 3, headphone | USB 3.0, DisplayPort, Surface Connect, microSD, headphone |
| Size | 12 x 8.4 x 0.6 inches | 11.5 x 7.9 x 0.3 inches |
| Weight | 2.8 pounds | 2.4 pounds |
| Storage | 256GB | 256GB |
| Battery Life | 8 to 9 hours | 9 to 10 hours |
| Color Options | Space Gray, gold, silver | Type Cover (black, burgundy, platinum, cobalt) |
MacBook Air vs. Surface Pro Comparison Table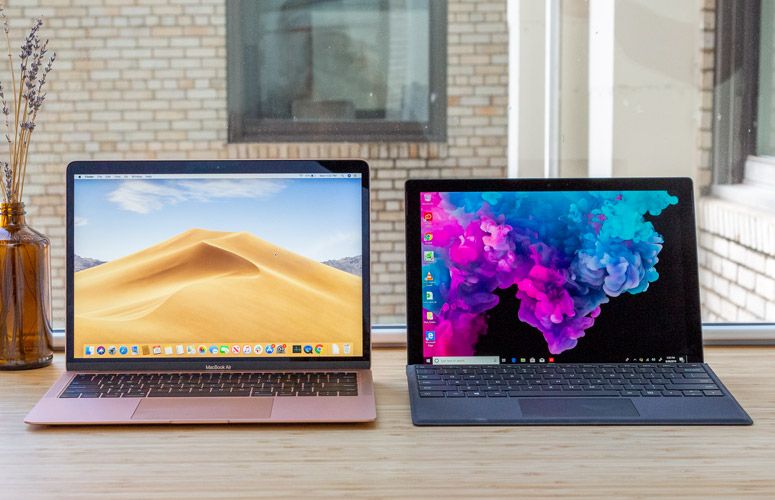 Design
When it comes to design, Apple has always tried to keep it simple and sleek. The MacBook Air has become thinner in the updated version and weighs only 2.75 pounds. Despite being such as easily portable laptop, it is built well. The laptop is available in space gray, silver and gold colors. Just like the other Apple laptops, this one also has the butterfly keyboard that you might not like if you have not liked it before.
On the other hand, Surface Pro 6 has the trademark Microsoft aesthetic. The silver-gray exterior coupled with the robust build makes the laptop look and feel amazing, weighing only 2.4 pounds. Made of metal and glass, this machine is extremely elegant and smooth enough to give Apple laptops a run for their money. It features the Microsoft Precision touchpad which is very comfortable to type on and supports Windows 10 gestures.
If we have to choose a winner between the two in terms of design, we would crown the Microsoft Surface Pro 6 since it clearly has a sleeker and more comfortable design. And did we mention it comes in black too? Definitely a snatch.
As someone who needs to carry around their laptop from one place to another, you would prefer the Surface Pro 6 as it is more portable. Weighing only 2.4 pounds, it is much easier to carry than the 2.8 pound MacBook Air.
Ports
You can tell that the manufacturers did not pay much attention to this feature. Both the MacBook Air and the Surface Pro lack in this regard. The MacBook Air has a headphone jack and two Thunderbolt 3 ports.
The Surface Pro has a USB 3.0 port, a micro SD card reader, a headphone jack and a Display Port. But there is no USB-C port. There is no winner in this round as both the laptops are pretty much the same.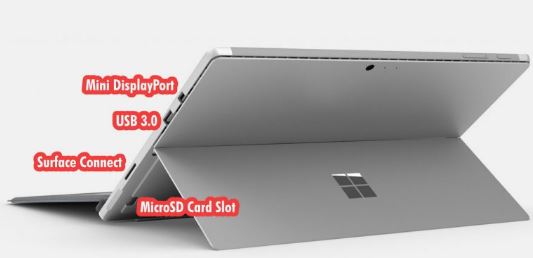 No matter which laptop you choose, you will need an adapter. This lack of ports in both the laptops makes them unsuitable for photographers, designers and videographers who need plenty of ports to work efficiently.
Display
In this case, you have to decide what you want to opt for. The MacBook Air has a 13-inch screen with a 2560 x 1600-pixel screen resolution while the Surface Pro has a 12.3-inch screen with a resolution of 2736 x 1824 pixels.
The Surface Pro is much brighter at 408 nits and has a yellowish tinge to the images while the MacBook Air, at 343 nits, has a clean white balance. If you want a brighter screen that shows you every detail on the screen, you would prefer the Surface Pro.
One thing that you would notice about the Surface Pro is that it has a slightly higher saturation in its display. For example, if you watch a movie, the smaller details will be much more visible but they will also have a yellowish tinge to them.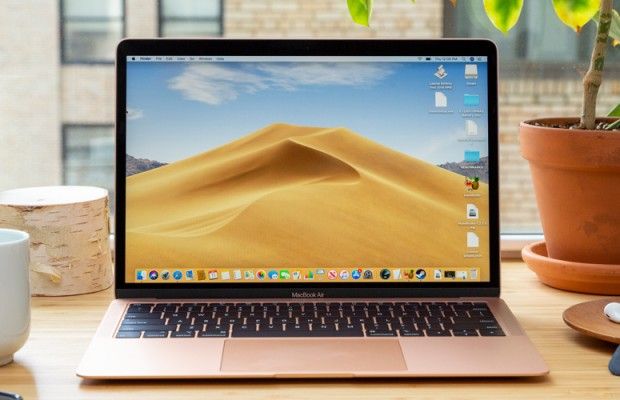 On the other hand, the white balance of MacBook Air makes the images seem much cleaner and neutral. However, if you are a movie-lover and you want a rich display, you would like the Surface Pro.
Performance
While both the laptops feature Intel's 8th generation CPUs, Apple's CPU runs on dual-core since it is from the Y-series. On the other hand, the Surface Pro's CPU is from the U-series and has quad-cores. What this means in the normal-people language is that the Surface Pro is packed with much more power than the MacBook Air and it runs faster.
So, it is settled then. The MacBook Air cannot live up to the power and performance on the Surface Pro. However, if there is one thing which the MacBook Air does supersede the Surface Pro is the 256GB PCIe SSD which has a much faster file transfer rate than the Surface Pro's 256GB SSD.
Overall, we can say without a doubt that the Surface Pro is an evident choice for someone who looks for higher performance. If you are a graphic designer, editor or filmmaker, you would like the Surface Pro while students and office workers can work with the MacBook Air just fine.
Keyboard
If you have ever used MacBook Air, you would know how unreliable and difficult the keyboard is. The same can be said about the newer model. According to Apple, they have made a few changes to the keyboard but as a user, you would not notice much of a difference.
On the other hand, the Surface Pro's keyboard is a delight to work with. It can be detached and has 1.3mm travel in the keys. Also, when you are typing, you would know if the key has been pressed as the keys give off a bump upon being pressed.
With the MacBook Air, you are more prone to making mistakes as compared to the Surface Pro. Therefore, if your job involves a lot of writing or if you are a student who needs to type long papers and essays, you would enjoy the accuracy and reliability of Surface Pro's keyboard.
Battery Life
There is a close competition on this one. While the MacBook Air lasts for about 9 hours while the Surface Pro lasts for 50 minutes or so more than that. So, there is not much of a choice here until you really can do a lot with an hour of battery life.
However, if you are a professional who needs a longer battery life, then the Surface Pro is ideal for you. Sometimes, even an extra hour of battery life can do wonders for your work.
While students will appreciate the battery life of MacBook Air, design and art professionals will prefer the Surface Pro's battery life. This is because such professionals use demanding software like Photoshop and Premiere Pro that drain battery much faster.
Portability
At the end of the day, a laptop has to be portable because beauty and aesthetics just do not cut it. The MacBook Air is quite thin and lightweight but the Surface Pro is lighter than it, despite being thicker. Both the laptops are quite portable but if you need a laptop that is lightweight and also has sufficient battery life, you should opt for the Microsoft Surface Pro.
At first, you might think that the 0.4 pound difference between the two laptops is not a lot. But it actually is. If you are going to work, sitting on your desk the whole day, the weight will not matter. However, if you are going to carry your laptop bag the whole day, the lighter 2.4 pound Microsoft Surface Pro should be your pick.
Value for Money
Apple laptops are expensive and we all know it. The Surface Pro starts at a much lower price than the MacBook Air. The MacBook Air can be upgraded to have 16 GB RAM but the CPU cannot be upgraded.
On the other hand, the Surface Pro comes in upgraded models in which you get double the storage, 16 GB RAM and core i7 CPU. So, there is a lot to gain as the price goes higher. The full-blown version of Surface Pro can cost you double the price of MacBook Air but the entry-level version is a few hundred bucks cheaper than the entry-level Air.
MacBook Air vs. Surface Pro: Which is better?
We don't like to choose favorites but we would have to say that the Surface Pro 6 does a much better job at practically everything. You can still get the MacBook Air as it is best for average users or students but if you want to edit, make videos or use heavy design apps, you should invest your money in the Microsoft Surface Pro 6.
The Surface Pro has a better screen display which makes it suitable for Netflix and chill while its longer battery life ensures that the laptop does not die in the middle of an exciting episode. Moreover, it is better in terms of performance and has a slimmer and lighter design for enhanced portability. Overall, there is no doubting the fact that the Surface Pro takes the win in this contest.