The 15-inch MacBook Pro is one of the most powerful machines in the market right now. But like all other Apple products, it would cost you half your kidney, if not a full organ. It was only right to compare this beastly machine with something that could give it a run for its money. And what better than the Dell XPS 15 to give a fair comparison of the Pro with other mainstream powerful laptops.
While there are some things in which the Apple laptop clearly takes the win, there are other aspects in which it is the runner up. Let us dive into the MacBook Pro 15 vs. Dell XPS 15 review straightaway.
| | | |
| --- | --- | --- |
| Features | MacBook Pro 15 | Dell XPS 15 |
| Display | 15.4 inches (2880 x 1800) | 15.6-inch 1920 x 1080; 3840 x 2160; 3840 x 2160 OLED |
| CPU | 9th Gen Intel Core i7, i9 | 9th Gen Intel Core i5, i7, i9 |
| RAM | 16GB, 32GB | 8GB, 16GB, 32GB |
| SSD | 256GB, 512GB, 1TB, 2TB, 4TB | 256GB, 512GB, 1TB, 2TB |
| Ports | 4x Thunderbolt 3 ports, headphone jack, Touch ID fingerprint reader, Touch Bar | 1x Thunderbolt 3 port, 2x USB 3.1 Type-A ports, HDMI 2.0, headphone jack, fingerprint reader, power port |
| Size | 13.8 x 9.5 x 0.6 inches | 14.1 x 9.3 x 0.5~0.7 inches |
| Weight | 4.02 pounds | 4.5 pounds |
Design
When you see a laptop, the first thing you notice is the design, and to be honest, most people would base a huge part of their selection process on how good the laptop looks. Both the Pro and the XPS have the same issue of being similar to the previous models. It feels like the companies decided to make changes on the inside rather than changing the exterior. They definitely do not want you to judge the laptops by their covers.
While both the laptops have aluminum lids, there are a few differences in the deck. Dell XPS has a carbon fiber interior while the MacBook has an all-aluminum deck. Talking of bezels, Dell XPS takes the win as it has 0.2-inch slim bezels that make the 0.3 inch MacBook side bezels and 0.6 inches top bezels look rather rusty.
There isn't much of a difference in terms of the frame size but the MacBook is half a pound lighter than the Dell XPS. You might be able to overlook this if you are impressed with the slim bezels. The build is also pretty similar as both the models are made of premium quality material. In terms of design, there is no winner as it a tie. Both laptops are pretty cool in their own way and you can choose any one of them.
Keyboard
When it comes to the keyboard, Apple often has to take the back seat because of the Butterfly keyboard. For a laptop that costs more than $1000, you would expect the keyboard to be more user-friendly but that is not the case. The Apple keyboard, with its shallow 0.6 mm travel, is not as great as the Dell XPS 15.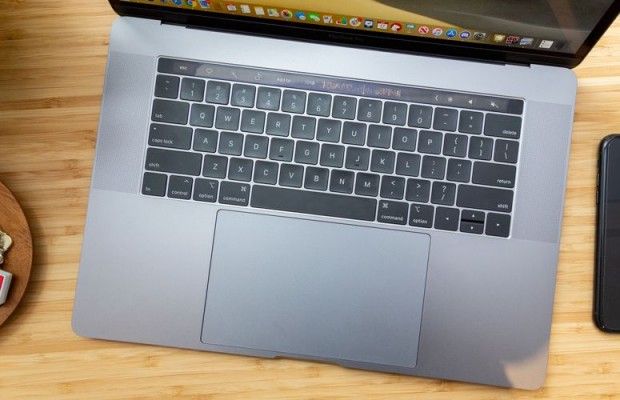 Secondly, the huge keypad on the Pro 15 gives more room for accidental actuation. However, if you are someone who uses the touchpad often, you would love the Force Touch touchpad with its ultimate responsiveness.
On the other hand, the Dell XPS has a smaller keypad and you will not touch it accidentally. The keys are also evenly spaced and you will have a better typing experience. If you have a writing job or you need to use the keyboard a lot, you should opt for the Dell XPS.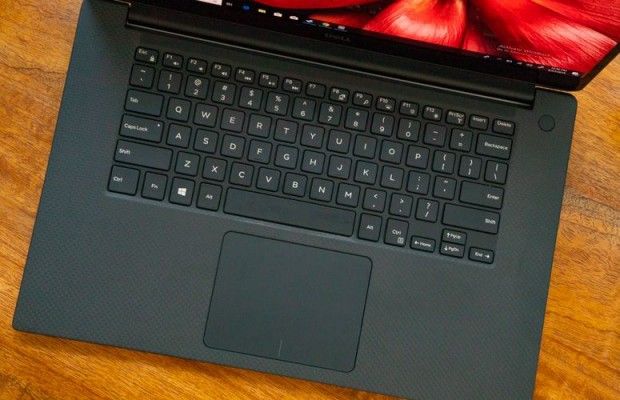 A common thing between the two laptops is the fingerprint scanning. You can log into both the systems without entering a password. While Apple has support for Touch ID, the Dell XPS supports Windows 10 Hello.
Display
Ever since the MacBook Pro Retina, the display on Apple laptops has improved significantly but it still does not give it an edge on Dell's OLED and 4k display. Apple's screen is definitely very good but not as great as Dell's display. If you watch a movie on the Dell XPS, you would see everything much brighter and crisper as compared to the MacBook pro's display.
Dell XPS is available in OLED and non-OLED display. Both the screens have a higher brightness as compared to the MacBook Pro. The Pro emits 403 nits of brightness while the non-OLED XPS emits 416 nits. The OLED screen is much brighter with 626 nits. The only problem you might have with the OLED XPS screen is over-saturation. Apple laptops, on the other hand, do a much better job of adjusting the ambiance according to your surroundings. Thus, if you are a designer or an illustrator, you would like the Dell XPS much more than the Apple Pro due to its sharper colors and higher brightness.
Performance
There is no doubt that both these machines are suitable for giving you matchless performance. They both have an Intel Core i9 CPU with 32 GB of RAM. When it comes to graphics, the Apple MacBook Pro 15 has Radeon Pro Vega 20 graphics card while the Dell XPS 15 features Nvidia GeForce GTX 1650 GPU. Both the graphic cards are supported by 4GB of memory.
If you are a gamer or you like to play games after work, you should go for the MacBook Pro as it has a much greater frame rate per second than the Dell XPS. On the other hand, if you are a photographer or filmmaker and you need to render data, the Dell XPS takes the win. Overall, the MacBook Pro 15 takes the win in this round. You would have to pay a thousand dollars more to get better performance though.
Battery Life
You would be surprised to know that despite having such high-resolution display and powerful performance, both the laptops do well in terms of battery life. The MacBook Pro lasts for a little over 10 hours while the average battery life for the Dell XPS 15 is up to 9 hours.
Therefore, if you need to take a laptop to work and you do not want to plug it in every few hours, the MacBook Pro should be your pick. The Dell XPS would work well for students as it has ample battery life for a day in school.
Ports
When you use a laptop regularly, the number and variety of ports make a difference. The MacBook Pro has 4 Thunderbolt 3 ports. If you are going to use this laptop for work, you will need an adapter.
On the other hand, the Dell XPS has it all. It has 2 USB 3.1 ports, an HDMI 2, one Thunderbolt 3 port, an SD memory reader, and a security lock slot. There is no debate when it comes to which laptop is the winner in this case. If you are an entertainer or an artist who works with a lot of accessories, the Dell XPS 15 will make your life much easier.
Portability
As we have already mentioned, both the laptops fall in the same size range. However, the weight is different. The MacBook Pro is much lighter at 4.02 pounds while the Dell XPS weighs 4.5 pounds. If you mind carrying around that extra bit of weight around campus or to work, then you should invest in the MacBook Pro.
Final Verdict: MacBook Pro 15 vs. Dell XPS 15
From the review, it must have become clear to you that both the laptops have their merits and demerits. The MacBook Pro is suitable for people who want a lightweight laptop with long battery life and responsive touchpad. The Dell XPS is a suitable choice for people who are looking for a laptop with a stunning display, slim bezels, and lower price range. You should opt for the Dell XPS if you work at an office and you need a laptop for everyday work.
While the Apple MacBook is more suitable for people who need to render videos, edit images, illustrate or run statistical tools, etc. Both the laptops are great in their own way but you would have to pay double the price for the MacBook Pro than you would pay for the Dell XPS. For this extra price, you get a lighter design and a faster performance.